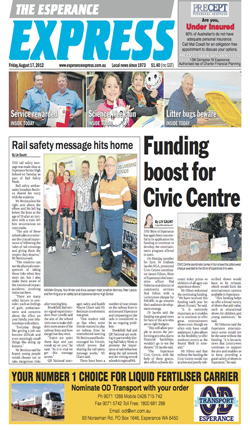 A front page from The Esperance Express.
The Esperance Express is the local community newspaper founded in 1973.

We report and inform the community on all local news as well as entertainment, business and sport.With two papers each week – Wednesday and Friday – the Esperance Express provides an extensive and in-depth coverage of the region's diverse activities.

The paper's great strength is its concentration on all things local with a strong coverage of community news and sports together with specific rural and real estate sections.

The Esperance Express is highly respected in the town as a source of news, information and opinion with local people feeling a strong sense of connection and 'ownership' of the paper.

Esperance is situated on the south east coast of WA, 715km from Perth.

The town is an important centre for the surrounding area due to its isolation. The nearest towns of any size are Kalgoorlie, Albany and Narrogin.

The shire covers 42,400 sq km. Three quarters of the population lives in the town itself. The major industry is farming with cereal crops and sheep being the mainstays though beef and various alternative farming projects make an important contribution.

Tourism is growing rapidly. Fishing is a minor industry with a small fishing fleet operating out of the fishing harbour. The port has a steady stream of boats exporting the harvest, nickel and iron ore from the Goldfields.

The town itself boasts a large number of services and continues to grow in both size and prosperity.
Advertising Rates